{entries are edited to protect names & identities}
10/18/07
I would be a fool to not thank the Lord every day for the blessings I have in my life.
Through the struggles and the fog, He has been my guidance and light. I have been revealed a lot about myself, my lifestyle and state of mind.
Something shifted and a good thing went into the right place. I feel somewhat whole now. There's a few pieces to the puzzle missing, but patience is a new thing I'm swallowing.
The best things that happen to people come with time. I want to do things the right way and that will make everything else feel right. I will have more appreciation for what happens in my life. I really am blessed, Though financially I might not be so great, that doesn't matter to the Lord.
I am pleased because I know I'm pleasing Him and I will receive good things in His time. I already have many good things and I'm not asking for much. I can wait until it's time...it will be beautiful...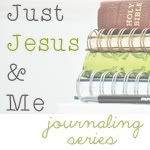 Grab the button to follow & share
my prayer journaling series.
New entry every week!