{entries are edited to protect names & identities}
12/18/07
I must remind myself to thank God for everything, every day. I love the Lord and I need to focus my relationship with Him and not think of others walk with God. Of course I want to surround myself with people who are having a successful relationship with God, but at the same time, I have to remember that like every relationship, there are ups and downs.
I need not judge or analyze anyone's personal one on one with our Lord.
It's not fair.
I can, however, pray things are going all right and ask the Lord to bless them.
I know my one true wish will come true and I need to concentrate on what God is doing in my life,
not other's. I only hope all is well and that they are doing what is necessary to giving our Lord the glory.
Amen.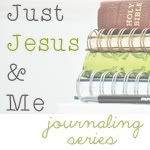 Grab the button to follow & share
my prayer journaling series.