{entries are edited to protect names & identities}
12/10/07
I am so blessed every day, even if I've lost sight of all the good going in my life.
It's easy to get comfortable with what is positive, and not be thankful but just accept it.
We must always be grateful for the goodness the Lord does for us.
God is showing me little by little how it's our outlook and attitude that affects the events and people around us. If we are excited about something, others will too. If we are in a bad mood, you will notice others also get in a bad mood.
We feed off the energies of one another and we must make sure we are giving off the right kind so others will appreciate it and benefit from it. We must remember we are above those negative tendencies because Jesus lives inside of us and we need to be thankful and glorify His ways.
I have a piece of God in me. All the time. How precious is that?
I am so happy to hear that and remember my Lord loves me and I must trust Him.
Love is a beautiful and strong emotion. It has broken down walls and has revealed many things to the eye.
Jesus loves me and is in me...I need to love him just the same, because He never changes... <3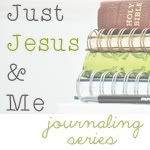 Grab the button to follow & share
my prayer journaling series.
New entry every week!
Linking up
here
today :)