{entries are edited to protect names & identities}
7/13/07
God, how did I get like this?
Why can't I let things be, and be happy living on my own? I don't know. I think I've become too dependent. I feel like a bad person. I don't know why I feel I don't deserve anything good.
I have what I want, and I'm still depressed.
I have my own apartment and an awesome boyfriend. I am alive and I have Jesus. I have a healthy family and I have an incredible Christian family. I'm possibly with someone who I can get married to and grow old with.
But I have these selfish ways I can't seem to get rid of. I'm so consumed...I don't leave time for anything else. I don't know. Maybe it's attention. In the back of my head, I want us to be independent yet still make time for each other. I just don't know how! I've never had to be alone before and I'm definitely learning about myself.
I never thought I can get in those dark places and think things I wouldn't think of normally.
I'm trying to leave it up to Jesus, but no one said it would be easy.
And that's the hard part to swallow. It's not easy and I need to get over it. How?
I wish I knew 'cuz I'd be doing it already. I guess just continue writing and painting. I need an outlet and to keep expressing myself 'cuz if I don't, I am afraid of what can happen.
I'm afraid of who I will become.
Do I want to be the obsessive, selfish, attention driven girlfriend? Of course not! Maybe it's a condition.
Am I really crazy?
Are the wires all f---- up in there, and I'm about to explode, it's just a matter of when?
Be positive. That's what I need to do. It's going to be okay. God has it all planned out and He wouldn't let me fail.
And if Jesus won't give up on me, I can't give up on Him.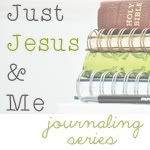 Grab the button to follow & share
my prayer journaling series.
New entries every week!