{entries are edited to protect names & identities}
1/22/08
I know what I need to do. I've known it all along.
It's the follow through that's the hard part. But I must get through.
I have to.
My choices and actions affect a lot of people.
We have power in what we do. Or what we don't.
I'm finally ready to say yes to this commitment with the Lord all the way.
Friday night helped in so many ways.
Watching K get the Holy Ghost, it was amazing. I've never experienced anything like that.
Receiving it is not the same as watching some one who is a good person get touched by the Lord's Spirit. I was so happy for her.
I wish I could help others. I'd like to help others. Children especially. Or teens.
I can feel a pull inside of me gearing towards what I'm suppose to do.
Only He knows, and that's ok. What's good for the Lord is good for me.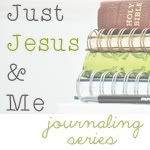 Grab the button to follow & share
my prayer journaling series.
Want to read more entries?
Find them
here
on the Series page!