{entries are edited to protect names & identities}
10/07/07
*NEED TO REMEMBER*


* God is my life because He gave His life for me and I must be thankful and give Him praise because He is the One and only truth and love.
* He will never give up on me, so I must never give up on Jesus.
* Just because I don't feel He's there, doesn't mean He's not. God is always there for me and I must be thankful.
* Nothing and no one comes before the Lord, my God, Jesus.
"But seek ye first the kingdom of God, and his righteousness;
and all these things shall be added unto you." Matthew 7:33
* Remember to put God first, and He will reward us graciously. But do it for God because He is worthy and not for our benefit. Just know things will get better if we turn to Jesus first.*
"IN THEE, O LORD, DO I PUT MY TRUST:
LET ME NEVER BE PUT TO CONFUSION"
Psalms 71:1
"Be thou my strong habitation, whereunto I may continually resort: thou hast given commandment to save me; for thou art my rock and my fortress."
Psalms 71:3
Accepting the past and things in our loved ones lives that may have been negative, need not to be dwelled upon. For that can and may become part of your struggle, and not your victory.
It becomes a battle of our self-conscious minds and not a battle with the memory. Jealousy is evil; we must not let the light in our lives turn green, but we must keep it white.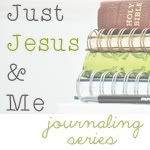 Grab the button to follow & share
my prayer journaling series.
New entry every week!